Fishing Guide In Northwest Florida
Fishing Guide In Northwest Florida?
Looking for a Fishing Guide In Northwest Florida? You have come to right place! Showintail Inshore Charters Of Navarre Florida is your #1 location for finding a Fishing Guide In Northwest Florida.  We offer many different trips to suit you and your family. Check out our family fishing trips HERE or give us a call and book today 850-582-FISH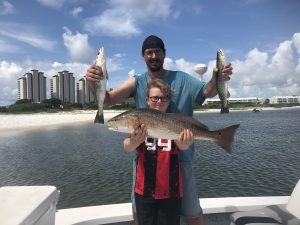 Mid January Fishing Report!
The past week 15th-22nd have been up and down with the weather in Navarre Florida. We had a few warm days, windy days and rainy days and now really cold day. But fishing in the Navarre Beach and Pensacola Beach Area have stayed fairly good.
Redfish
If you  have ever spent time with a Fishing Guide In Northwest Florida you will hear a lot about redfish! These hard fishing fish are top  on the list for all 12 months of the year! The cold months like January and February on the gulf coast of Florida we find slick crystal clear condition on the north wind and that's the time to go after them! Beach, pass, bridges, or the shallow flats you can find Redfish on almost any cut or dead bait and a mixed bag of artificial lures. Check the last Navarre Fishing Report from Showintail Inshore Charters Of Navarre Florida the report is still almost the same 👍
Speckled Trout
A lot has changed as far as Speckled Trout goes since the last report. Big Speckled Trout (the kind you make a mount out of)  have started showing up in the shallow warm waters along the gulf coast. If your wanting to spend the day with a Fishing Guide In Northwest Florida chasing world class size Speckled Trout on light spinning gear or Fly now is the time to book your trip soon! Catching a large gator trout is not easy but it can be done! They get big by being smart, easily spooked and a little luck. 😂
I myself am not a fly fisherman but watching the guys who do is some of the most fun I have every year while chasing large speckled Trout. If anyone wants try and land a monster trout on fly give me call 850-582-3474!
Sheepshead and Flounder
😍 fish tacos 🌮
Sheepshead is my favorite eating fish for making fish tacos and you only need 1 or 2 to make a amazing family seafood dinner! The bridges and rock piles have plenty to go around. Small hooks with fiddler crabs or live shrimp. Add a small weight to get the bait down around the pilings and you shouldn't have a problem grabbing a few sheepshead for dinner.
Flounder fishing for me this time of year is real hit or miss. When we come across them we catch a good amount for 1-2 trips and then I don't see many for awhile. They seem to always been on the move when I find them. The most I have found this January has been in deep water around docks. White jig head with Berkeley  Gulp has been the best method to finding them.
Thanks for checking out the Navarre Fishing Report for Showintail Inshore Charters Of Navarre Florida. 
Places to stay in Navarre Florida.
If your looking for a great place to stay in Navarre Florida during your family fishing trip. There are many great locations including the Best Western Navarre Waterfront.
The Best Western Navarre Waterfront is located in the center of town and perfect for a weekend getaway with friends or family!