Navarre Beach Fishing
Navarre Beach Fishing
Its been a crazy week with the weather for Navarre Beach Fishing. The water is still low but clear. Cold and windy has been the daily struggle for the last week. The good news is the weather is looking amazing for the first 2 weeks of February in the Navarre Beach, Pensacola Beach and Destin, Florida areas! We have sunny days reaching 65-70 degrees and sunshine! The fish should slowly start to turn towards the spring patterns and only get better from here.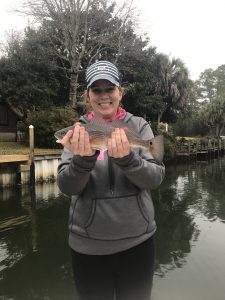 Navarre Beach Fishing
We had a slow week at Showintail Inshore Charters Of Navarre Florida. But we still got out a few days and went searching for redfish. If you check out my last 2 fishing reports here and here you can see that the cold weather over the past weeks have moved the redfish to deeper water. Bridges, canals and deep water edges or structure is where your going to find the redfish entill the water starts to warm up a little. Live bait or Gulp on a jig head bounced slowly across the bottom should get the redfish fired up! The fish I have found seem to be schooled up pretty tight if you find a redfish stick around because there should be more to follow. 
Navarre Beach Fishing – Speckled Trout
Speckled Trout are starting to be the best bet for a day on the Santa Rosa Sound in Navarre Florida. Grass edges in 5-10 foot of water and muddy bottom continue to be the most productive for Speckled Trout. The upper bays of Escambia Bay and Blackwater River are the key areas for quality Speckled Trout. Slow bouncing jerk baits and very slow walked top waters have been the ticket to catching plenty of Speckled Trout over the past week. Spring is just around the corner and time for big Florida Gator Trout! Book your trip today for a chance at your biggest Speckled Trout of the season.
Navarre Beach Fishing – Black Drum
If your looking for trophy sized fish to tug on during these cold days. Black Drum are gonna be the top choice. Live bait or cut mullet soaked on the bottom around bridges is a great way to find these large Drum. Spinning tackle in 20lb range is needed to steer these large fish away from the pilings and rubble on the bottom. The larger black drum and not very good table fair but are a blast to spend the day reeling in. 1 or 2 big drum and you won't to reel anything else in lol.
Book your family Navarre Beach Fishing Charter
Phone : 850-582-FISH or 850-218-6225
www.showintailinshorecharters.com
Follow us on Facebook and Instagram!
Navarre Beach Fishing – Lodging
check out the Navarre Best Western for a very easy and convenient stay in the Navarre, Florida area.
Navarre Beach Chamber of Commerce is a great place to look around if you need any more information about Navarre, Florida.