6 Hour Fishing Charters
6 Hour Fishing Charters
If your looking 6 Hour Fishing Charters in  Navarre, Pensacola Beach, Fort Walton Beach or the surrounding areas then Showintail Inshore Charters is the right boat for you! All charters offered by Showintail Inshore Charters are kid and family friendly.
*Contact Us to book an epic adventure in the beautiful Florida sunshine.*
Check out the Showintail Inshore Charters Photo Gallery for daily updated photos and trip info!
6 hour Fishing Charters are designed with the sportsman in mind. 3/4 day charters allow for enough time to cover alot of ground or really dedicate the time to a trophy species on your bucketlist! Sight Fishing, Trolling, Bottom fishing, all can be done on a 3/4 day charter.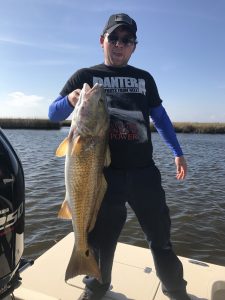 6 Hour Fishing Charters 
Redfish and Trout: This is the perfect trip for a group of friends or family outing! Redfish and Trout Trips are live bait and artificial lure trips targeting redfish and trout that great for fish frys after your charter! Many other exciting species can be caught while fishing for redfish and trout.
Sight Fishing: If your a skilled angler or just a novice Sight Fishing is a great way to experience Florida Redfishing at its finest! Spend the day slowly drifting the crystal clear waters of the Emerald Coast looking for Redfish schools and many other species from an elevated position. Once fish are located we help you get set up for the perfect cast to one of the most exciting shallow water experiences! Sight Fishing trips are limited to 2 people so we can give you the best possiable shot at catching quality redfish.
Trolling and Live Baiting : If you like the excitement of fast moving fish exploding on trolling baits or even tossing live Ly's into a feeding school of Spanish Mackeral then a 6 hour Trolling and Live Baiting trip is perfect for you and your family! Trolling and Live Baiting trips are for up to 3 people. $150 for extra person. (4 people max)
Bay Red Snapper Trips : These trips are very limited due to the short season we have here in Florida! Trips are for up to 3 people. Call 850-582-3474 for more info about Bay Red Snapper Trips.
Trips Information:
Catch: Redfish, Speckled Trout, White Trout, Flounder, Jacks, Red Snapper  and many others.
Tackle: We use light tackle that is perfect for kids. We use 10lb power pro braid on Florida Fishing Products2500 and 3000 size reels. All our rods are custom built Rainshadow Ip903 and are very light weight for both adults and small kids.
What To Bring: Sunblock, hat, polorized sunglasses, and anything you want to eat or drink. We have a cooler on the boat available for you that is full of ice. If you bring a cooler try to make it small one so we dont take up the room we need for reeling in big fish!
I clean, bag and ice your catch for you! All you have to do is reel them in and take them home and cook them! If you are on vacation in the Navarre, Florida area Scooters on Hwy 87 will cook your catch for you, so your family can enjoy there amazing fish fry from the days fishing charter!
.