Navarre Fishing Report – July 2018
Navarre Fishing Report -July 2018
Welcome to the Navarre Fishing Report – July 2018!
Redfish – Navarre Fishing Report – July 2018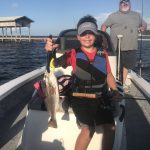 There has been a good showing of new redfish schools roaming both sides of the intercoastal waterway. Live bait and artificial lures work great for these prowling fish! Early in the morning top water lures like my favorite the Rapala Skitter Walk in bone white, and dark colored paddle tails make finding and sight fishing redfish a lot of fun in the hot summer sun! If your fishing for redfish with live baits croakers, pinfish, finger mullet and bull minnows over sandy edges will get the job done. Along with many other species that hangout in the same areas!
Speckled Trout – Navarre Fishing Report – July 2018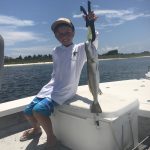 Speckled Trout fishing has been great all of June and hopefully will continue to show good numbers in the Navarre Beach area for the rest of July. Broken grass areas around sand have been holding the best fish and the best numbers the last week of June. Popping corks with Egret Baits Vudu Shrimp have been on fire once the sun gets up and heats the water up. Popping the cork loudly a few times and then letting it settle has been producing the best bite! Live baits under corks are working great too for Speckled Trout. Mullet, Croakers, Pinfish and live Shrimp should make it a easy morning for a limit of Speckled Trout!
Flounder – Navarre Fishing Report – July 2018
One of my favorite eating and favorite to catch on rod and reel! A few flounder have started showing up on the deeper ledges of the Navarre Beach area and have been making there way into our coolers after gulping down bull minnows dragged in the sand while looking for redfish. Once you catch a flounder stop and work the area very slowly and carefully and you just might add a few more of them tasty flounder to your catch!
Gulf Side – Navarre Fishing Report – July 2018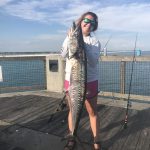 July is a AMAZING month on the gulf side! The Navarre Beach Fishing Pier makes it very easy for anyone to have access to some of Floridas Most sought after game species! Spanish Mackeral and King Mackeral should stay pretty regular catches through July with Mahi-Mahi and Sailfish making regular apprences for those throwing anything from live bait and frozen cigar minnows to light tackle jigs! A few and I really use that word loosely… lol cobia are still around and being caught.
Tarpon steal the show for the month of July with there powerful bites and amazing air show of power they put on after falling victom to a swim bait or live bait that was pitched out in front of them. The bite should really pick up on Navarre Beach after the first few days of July on the  backside of the full moon. Lys and paddle tails baits like Hogy Pro Tails are the go to baits for Tarpon in July!
Thanks for checking out the Navarre Fishing Report – July 2018! Don't forget to check back daily for more Reports or follow us on Facebook, Instagram and Twitter.
www.showintailinshorecharters.com
Facebook – Showintail Inshore Charters
Instagram – Showintail_Inshore_Charters
Twitter – @Showintail
Book a trip today – 850-582-3474