Fishing Charters In Navarre Beach Florida
Fishing Charters In Navarre Beach Florida
Fishing Charters In Navarre Beach Florida are starting to heat up. The past few days have been warm with light wind. Signtfishing for redfish has slowly started to get better. For this fishing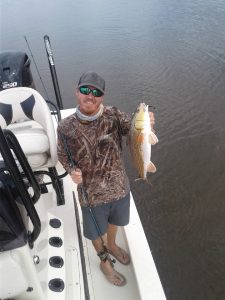 report I am going to change it up a bit and cover a few other species that can be caught during February along the Emerald Coast Of Florida. This week we are chasing Sheepshead, White Trout, Bluefish and Bonita.
Fishing Charters In Navarre Beach Florida Fishing Report
With the warmer weather over the past few days for the Navarre Beach area the redfish have very slowly started to make there way back on to the flats during the mid day. You best bet for redfish is still to fish the deeper areas. You can check out the past fishing reports for catching redfish along Navarre, Gulf Breeze and Pensacola Beach Florida.
Fishing Charters In Navarre Beach Florida Top Fish for January and February
White Trout fishing during the winter is great in Pensacola Bay and the surrounding areas. Finding these great tasting trout is as easy as finding deep water and a little structure. Cut bait, shrimp and gulp and a jig head is a sure fire way of catching all you want for dinner. The larger trout I have found have been around the 3 mile bridge in Pensacola Bay. Light 10-15 pound spinning is tackle is best for these fish but be ready for a few bull reds and black drum to be mixed in with the trout.
Also known as the Little Tunny, these fish are aggressive and powerful! Fishing Charters In Navarre Florida with Showintail Inshore Charters is the number 1 location for fly fisherman who want to battle these amazing fish. Cruising the beaches on the sunny north wind days is the best way to locate Bonita. Diving birds and crashing white water is a sure sign the Bonita are fired up and hungry. Fly fisherman can send any fly they like in to these schools of fish or a light spinning rod rigged with white jigs heads and white jerk baits. Bonita are one the hardest fighting fish along the Panhandle of Florida during the cooler months.
My favorite eating on the list this week is the Sheepshead. Hit the local bridge pilings with Fiddler Crabs, Shrimp and oysters. these great fighting fish should be ready to take your bait! Small circle hooks and fluorocarbon leaders with a weight just heavy enough to keep you straight up and down is key. Slowly lifting your rod once the bait hits bottom till you fell pressure and you should have them hooked up in no time. Make sure to bring a pair a pliers. A Sheepsheads mouth in no place you want to stick a finger! 🦷 🐟
Plenty Of Bluefish roaming around in the Bays and Intercoastal Waterways. Any fast moving jig, jerkbait, gotcha lure or bubble rig thrown near a school of Bluefish and everyone in the group will be setting the hook. Bluefish have extremely sharp teeth so adding a small wire leader or heavy florocarbon to your lure will help you to not get cut off. Bluefish are not high on my favorite eating fish but they make up for it in explosive bites and hard fighting power.
Book Fishing Charters In Navarre Beach Florida
www.showintailinshorecharters.com
Phone : 850-582-FISH or 850-218-6225.
visit us on Facebook and Instagram for daily updates!