Inshore Fishing Charters In Navarre
Inshore Fishing Charters In Navarre
Welcome to the Inshore Fishing Charters In Navarre Report for March 21st, 2019. Click HERE to book your family fishing charter in Navarre Beach, Pensacola Beach, Gulf Breeze and Destin Florida.
Inshore fishing charters In Navarre today started off cold and windy. The water temp was around 66-67 degrees on the flats around Gulf Breeze Florida. We started of drifting live shrimp across the shallow drop offs looking for Speckled Trout and then we headed for a little more protection from the wind to find some Redfish.
Inshore Fishing Charters In Navarre
Speckled Trout – The Speckled Trout didn't want to spend the morning playing with us 😂 we found a few small trout between 10-14 inches and mixed in atleast a dozen small white trout with them. We started off drifting down to where we thought the fish would be. We used the Power Poles to hold in place and tossed free lined shrimp. With the wind to your back you can throw very light shrimp along way to the fish. Small 3/0 circle hooks are my favorite for free lining shrimp for trout. We use 10lb power pro braid with 15 pound fluorocarbon for the Speckled Trout.
Redfish – Mid day we found a few places out of the wind to try and locate some redfish. We fished corks with live shrimp so we could drift the areas and find the Redfish. We found a few schools in warmer deeper weather and we managed to catch about 20 of them off of one little spot. Not sure what was holding the fish in such a small area other then maybe the water being a little warmer. Once we located the Redfish in Santa Rosa Sound with corks and shrimp we switched over to throwing light jig heads with gulp shrimp and caught a few of the larger fish In the school.
Inshore Fishing Charters In Navarre
The bigger schools of redfish should start to show up in the upcoming weeks as the weather continues to warm up. April is right around the corner and fishing charters are filling up fast In Navarre, Florida. If you want to go catch some redfish give me a call 850-582-FISH.
The big trophy Gator Trout will start making there way into the Santa Rosa Sound and surrounding areas in the coming month. If you are wanting to catch a a big Florida Gator Trout on Fly or Spinning Tackle Book your Trips soon!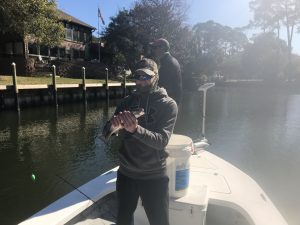 Check out the past fishing reports!
Inshore Fishing Charters In Navarre
Follow us on Facebook : Showintail Inshore Charters
Follow us on Instagram : @Showintail_Inshore_Charters
www.showintailinshorecharters.com